Full steel cab design for the new Caterpillar DP70NTD
BMB Industrial Cabs has completed a brand new full steel cab design in partnership with Impact Handling for the New Caterpillar DP70NTD model, thanks to a whole host of specialist design work driven by BMB state of the Art 3d Scanning tool at BMB new facility in Birkenhead.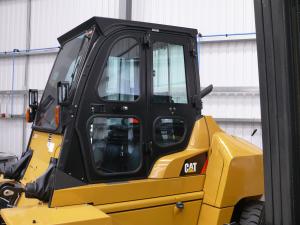 Some of the many development areas
Twin Split Doors with the Rear section of the split door incorporating the Split sliding windows for improved ergonomics and functionality.
Fixed secure locking brackets for the folded sections of doors for additional security whilst the truck is in operation.
Easy Release mechanism from within side the cab with minimal movement by the operator.
Double Rear split screen with wash wiper integrated from the steel and Perspex roof.
Increased visibility through expanded vision panels in doors and front screen area.
Laminated and Toughened Tinted Glass.
Antistatic sound proofing bonnet cover to protect the Bonnet and add an increased standard of quality.
Integrated 12v water cooled heater with Eazy Fix mounting brackets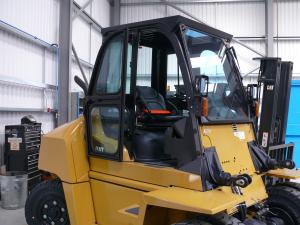 The completion of this project is a major stepping stone for BMB Industrial Cabs in its journey to develop a quality made product which is aesthetically pleasing but also robust enough to stand up to the various applications that the MCFE Brand operate in. Peter Woodhouse Dealer Development Manager for Impact Handling has confirmed that he and his Team at Impact Handling are extremely pleased with the finished product design and predicts additional orders to follow in the coming weeks.
Should anyone require additional information or have an enquiry for any type of weather protection please do not hesitate to contact us via email/web or telephone at any time.