Design Services
Following Raventa's acquisition of BMB, the company's design department has taken a pivotal role in the provision of cabs to our customers. We have heavily invested in the development of databases to more effectively manage the company's existing designs as well as in a team of highly trained designers.
BMB Design focuses on accurate and efficient designs using innovation to drive the design process. The company has recently invested in industry leading technology, incorporating 3D scanning with a suite of Computer Aided Design packages to enhance our cab range.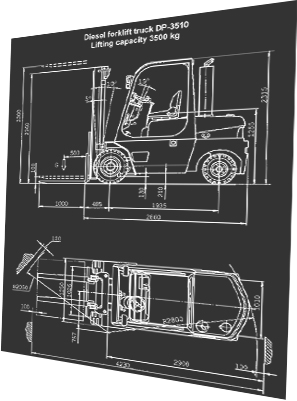 BMB Design focuses on both aesthetics and functionality when designing cabs. Designing in a 3D environment helps our customers visualise exactly how their finished cab will look from the moment they've placed their order. With over 20,000 designs collected from over 20 years of experience, we are forever expanding our portfolio whether we're designing a new bespoke cab or improving a historic design. As a design team we are both versatile and experienced and utilise new cutting edge technology to help us understand and implement our customer's requirements.
BMB 3D scanning technology makes it possible to scan forklift trucks for measurement at our customers' site, in particular if the specified cab does not require steel doors. When a full steel cab with full steel and glass doors is required, we recommend that the forklift truck is brought to BMB's premises so that our design team has sufficient access to the truck in order to maximise the aesthetics and functionality of the design. It is not uncommon for our customers to send their fork lift trucks to BMB in order to receive a comprehensive scanning, designing and manufacturing service which is included in our price.